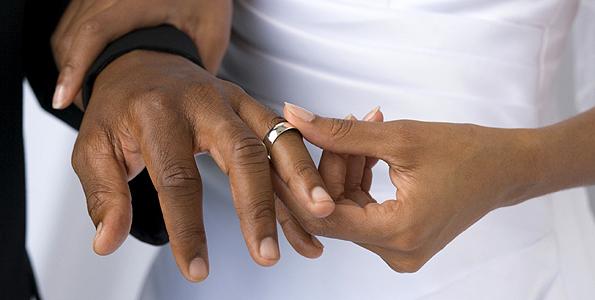 After 18+ yeas of marriage I can give this small word of caution to young women looking to get married
READ AND UNDERSTAND YOUR MARRIAGE VOWS!
To Have and to Hold
(that means intimacy (including sex) should not be a reward or punishment)
For Better or for Worse
(that means when times are good and when they become your worse nightmare)
For Richer or for Poorer
(that means when he is not bringing in the money you still support and uplift him)
In Sickness and in Health
(that includes when he is discouraged and despondent and unsure of himself)
Love, Honor, and Obey
(that means unconditional respect for the man's position as head regardless of whether you think he is worthy or not)
Forsaking all others
(that means turning 100% of your internal attention to your husband)
As long as you both shall live till death do you part
(that one should be self explanatory )
And what God has joined together let no man or woman put asunder
( that means you do what is necessary to keep some other woman from gaining his attention)
They are all EQUALLY important not just the ones that you deem unpardonable or deal breakers.
How many times have I heard people say If I would have known this – I wouldn't gotten married.
But as one song writer says "It takes EVERYTHING to serve the Lord."
If you are not ready to be placed in a position that calls forth the very evil of your nature and you have to choose to die COMPLETELY to self and exchange
Me Myself and I
for
We Ourselves and Us
Stay Single > Cause you're not ready….
Real Live!