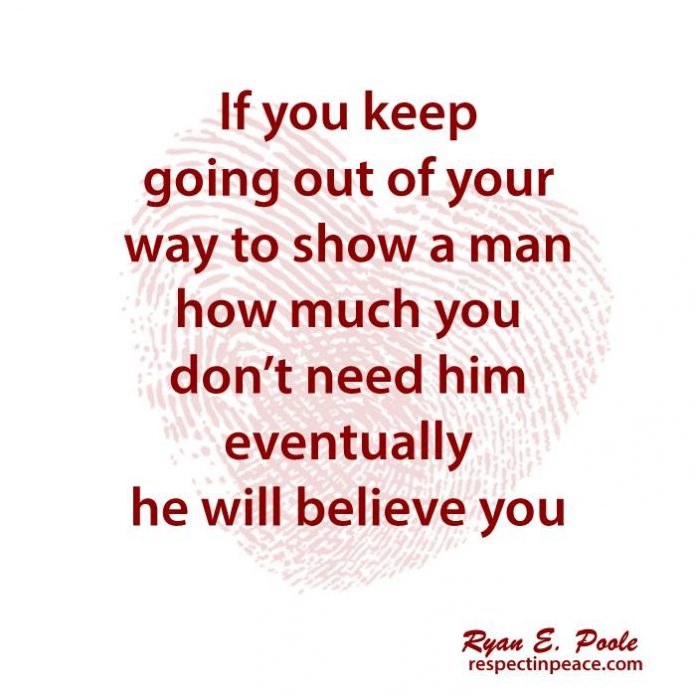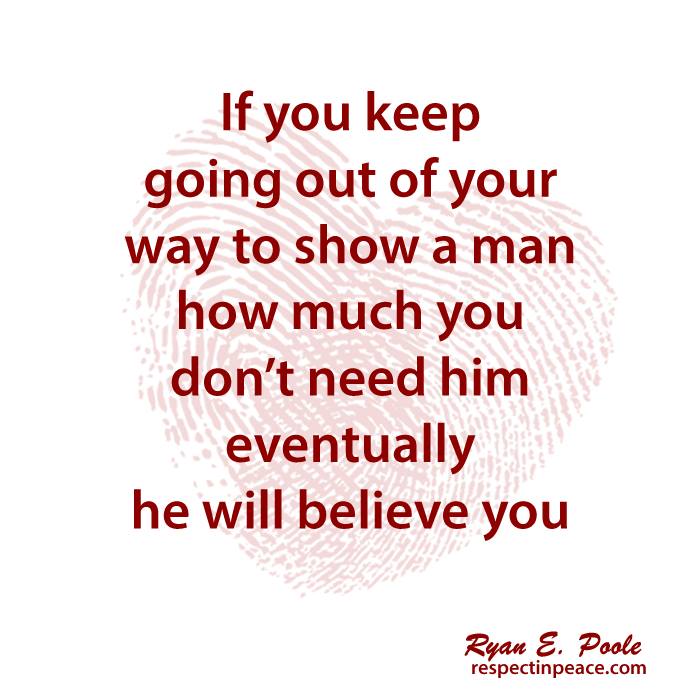 If you keep going out of your way to show a man how much you don't need him, eventually he will believe you.
Take a note Ladies from the incomparable Miss Jill Scott, IMHO these lyrics show that she just might be one of the smartest women on the planet.
I know most of you are thinking that the only thing that men have on their mind is sex but I would go so far to say this is one of if not THE greatest love songs ever penned to a man WTHDHJS I'm Sorry Mrs. Jackson (Janet), I am for real. These are the most sensual whisper of words by a woman to ever "woo man" if you know what I mean – it's like woo man!
I keep seeing the meme floating around that says. Don't be a woman who needs a man be the woman a man needs. OK good luck with that one. Let me know how that works out for you.
This post-modern society has set women on a mission to try and prove they can do almost everything a man can do, especially in the work world, if you want to RIP please get off that train. It is not about ABILITY. Whether we menfolk like it or not, WE ALREADY KNOW YOU CAAAAAAN do it. The question is do you NEED to do it.
The Good Book says it this way – "All things are lawful but all things are not expedient."
In business and marketing, we are trained to avoid using the word guarantee. But I GUARANTEE a wife or woman in a relationship with a mature man who lives by the words of these songs won't have to worry about her emotional needs or ANYTHING ELSE being met for that matter.
Show him that you need him and RespectInPeace                          
I can pay my own light bill baby
Put my own gas in my own car
I can buy my own shoe collection
I've been blessed thus far
I can kill the spider above my bed
Although it's hard because I'm scared
I can even stain and polyurethane
But some things just don't change
I NEED YOU yeah
Sometimes so hard to say uh
I NEED YOU
Some things remain
I can buy my own groceries baby
Get my hair dyed my nails fly
I can floss my own bling bling
Write the words to the songs I sing
I can even raise a child well made
Make sure he's loved and knows what God gave uh huh
I can teach him how to walk and stand
But he needs you to help him be a man
Um
WE NEED YOU
So hard to say
WE NEED YOU
Some things don't change
I can be a Congress Woman or a garbage woman,
A police officer, or a carpenter
I can be doctor and a lawyer and a mother, and a good goddess
Woman, what you done to me, good lover I can be
I can be a computer analyst
The queen with the nappy hair, raising the fist
or I can be much more and a myriad of this
Hot as the summer
Sweet as the first kiss
And even though I can do all these things
I NEED YOU
And even though I can all these things
WE NEED YOU
WE NEED YOU, WE NEED YOU
And even though I can do all these things by my damn self
I NEED YOU
I do, I do, I do, I do
And though I can do all these here things
I NEED YOU, WE NEED YOU
I do